Published on October 27, 2014
JB Aaron to sing National Anthem and Bob Koshinski to be Master of Ceremonies for this year's 10th Annual ELECTRIC LIGHTS PARADE in the Town of Niagara which will begin at 5:30 pm on Saturday, November 1st.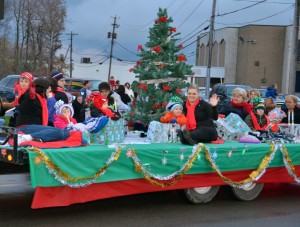 A major highlight of the ELECTRIC LIGHTS PARADE is the appearance of Santa Claus who will be on hand to greet the crowd and Niagara Active Hose Fire Company, 6010 Lockport Road is hosting a Children's Party following the parade for photos and visits with the children.
A Food Drive will also be part of this year's NIAGARA ELECTRIC LIGHTS PARADE. Volunteers will gather non-perishable food donations from parade spectators on behalf of the Community Mission, St. Vincent DePaul and Niagara Presbyterian Food Pantries. If participants wish, Parade organizers encourage donations the food to their Church Food Pantries and let them know it is on behalf of the Niagara Electric Lights Parade.
The major sponsor for the parade is Republic Services (Allied Waste Industries of Niagara Falls, NY). Allied Waste owns and operates the Niagara Falls Sanitary Landfill, located at the intersection of 56th Street and Niagara Falls Boulevard.
Last year's ELECTRIC LIGHTS PARADE drew several thousand spectators, along with the hundreds who were part of the bands, floats and community groups which took part.
The ELECTRIC LIGHTS PARADE is organized and presented by the Town of Niagara, the Town of Niagara Business and Professional Association, Inc., the Niagara USA Chamber.