Annie Taylor
Annie Taylor was the first person ever to go over Niagara Falls in a barrel. Annie Taylor also did it in style accomplishing the feat on October 24, 1901, her 63rd birthday.
Annie Taylor chose to challenge Niagara Falls only after she had lost both her husband and young son. Without a steady income and facing poverty, Annie decided to plunge over the Falls to earn some much needed cash.
Annie Taylor used a custom-made barrel for her trip, constructed of oak and iron and padded with a mattress. However, it took some doing for Taylor to find assistants to aid her in her cause because most felt her mission was a suicide wish. Finally Annie Taylor and her aids first sent a cat over the Falls in the barrel to test its strength and after the cat survived Annie Taylor was committed to follow.
On October 24, 1901, the barrel was put over the side of a rowboat, and Taylor climbed in, along with her lucky heart-shaped pillow. After screwing down the lid, friends used a bicycle tire pump to compress the air in the barrel. The hole used for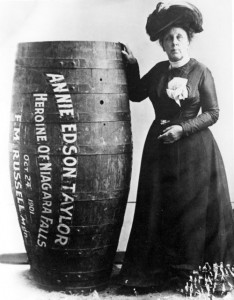 this was plugged with a cork, and Annie Taylor was set adrift near the American shore, south of Goat Island.
Annie Taylor went over the Horseshoe Falls and was soon rescued, discovered to be alive and only suffered a small cut on her head. Her greatest challenge other than going over the Falls was surviving with very little oxygen until the barrel could finally be pried open on the shoreline.
Unfortunately for Annie, her stunt did not result in riches. Annie attempted to make appearance for payment and tried to monetize her daring plunge over Niagara, but to no avail. Annie Taylor eventually died in poverty.