Rainbow Bridge
The Rainbow Bridge is the steel arch bridge that is just down river from Niagara Falls and connects Niagara Falls USA with Niagara Falls Canada.
The Rainbow Bridge was built at the site of the former Honeymoon Bridge which collapsed on January 27, 1938, due to an ice jam in the river. In fact a joint Canadian and American commission had already begun discussions about building a new bridge near Niagara Falls when the collapse of the Honeymoon Bridge forced their hand.

The Rainbow Bridge was  designed by architect Richard Lee. After the design was chosen, King George VI and Queen Elizabeth dedicated the site where the current bridge is now located. The King and Queen did this while on a visit to Niagara Falls in 1939 while on their royal tour of Canada.
Construction of the Rainbow Bridge began in May 1940 and the bridge was officially opened on November 1, 1941. The deck of the Rainbow Bridge is bridge is 202 feet above the Niagara River and the total length measures 1,450 feet long.
The complex on the Canadian side of the Rainbow Bridge features the Rainbow Tower or also known as the Carillon Bell Tower. This tower houses a large carillon that sounds several times daily. The Carillon Bell Tower was made famous as the murder site for Marilyn Monroe's character in the movie "Niagara" in 1952.

The Rainbow Bridge is strictly for cars and does not allow trucks for interstate deliveries. Commercial trucks must cross either at the Lewiston-Queenston Bridge below Lewiston or the Peace Bridge twenty miles north between Buffalo and Fort Erie.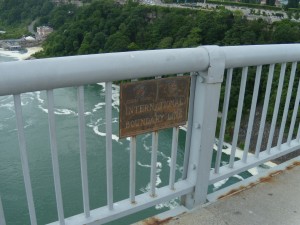 A popular photo location is at the middle of the Rainbow Bridge. At that location there is a bronze plate attached to the railing which designates the actual border point between Niagara Falls USA and Niagara Falls Canada, or to put it simple, the United States and Canada. Cars waiting in line on the bridge to cross customs often witness adults and children alike jumping back and forth across the imaginary border line as they walk across the bridge.