Niagara Falls USA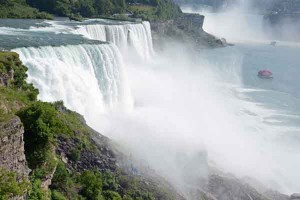 Niagara Falls USA has many attractions, some natural and some man-made. All add to the experience and the flavor that is visiting Niagara Falls USA in New York.
There has always been debate as to which side of the border offers the best experience in viewing the majestic waterfalls that collectively make up Niagara Falls. Niagara Falls USA gives visitors the best "close-up" view of the Falls and one area that can get you down right wet!

The Niagara Falls State Park offers three distinct vantage points that bring visitors right up to the brink of the American and Horseshoe Falls as well as at the base of the Bridal Falls. Those vantage points are at Prospect Point, Luna Island, Terrapin Point and the Cave of the Winds.
Niagara Falls USA and Goat Island also offers another spot that brings visitors right up to the banks of the raging Niagara rapids on "Three Sisters Islands".
For those who enjoy the rich history of hydro-electricity there is the high-tech Niagara Power Vista, located down river at the Robert Moses Power Plant.
Culinary and wine lovers will also enjoy a tour of the Niagara Falls Culinary Institute located in downtown Niagara Falls.
Farther down river you have the historic and beautiful town Lewiston, which has plenty of restaurants, shops and numerous summer festivals. Even farther north at the mouth of Lake Ontario is Old Fort Niagara which is a living, breathing piece of the history that made up the Niagara Frontier.
If you combine the natural wonders of Niagara Falls with the dazzling lights and excitement of the casinos and the family friendly amusement centers, Niagara Falls New York is truly unique tourist destination.