Nathan Boya
On July 15th, 1961 a man claiming to be "Nathan Boya" went over the Horsehoe Falls in a rubber ball he called the "Plunge-o-Sphere". In reality "Nathan Boya's" real name was William FitzGerald and his plunge over Niagara Falls, the first by an African American, was a bit more mysterious than others done by daredevils challenging Niagara.
On September 4th, 1960 FitzGerald, going by the name Boya, had visited Niagara Falls and even told Niagara Gazette reporter Bill Nelson of his plans to go over the Horseshoe Falls. The story was printed in the Gazette and nine months later FitzGerald actually accomplished his dream.
William FitzGerald lived with his grandmother in Jamacia, Queens, and worked as a night maintenance man at IBM. William's fascination with Niagara Falls was something he had become obsessed with.
Some have speculated that FitzGerald went through with the stunt to impress a woman he once dated. However, not much was known about "Nathan Boya" after his stunt, a name FitzGerald used as a tribute to Kenyan nationalist leader Tom Mboya.
FitzGerald had conferred with another daredevil by the name of Jean Lussier before arriving in Niagara Falls. Lussier actually suggested to FitzGerald that he attempt to go over the American Falls, a feat never before attempted and with good reason. The American Falls has a wall of boulders and rock at its' base and no one could survive the plunge and then being trapped in such rubble.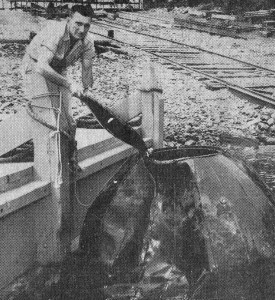 FitzGerald used a six foot ball made of rubber and a metal frame that cost him $3,000 and was made by the Hudson Fixtures Co. in the Bronx. The "Plunge-o-Sphere" was also equipped with air tanks that would have allowed him to breath for up to thirty hours should he been trapped behind the turbulence of the falls.
Being a student of the history of  Niagara daredevils, FitzGerald knew that George L. Stathakis had suffocated in 1930 while trapped behind the cascading waters. FitzGerald also wore a crash helmet and had himself strapped into a reclining seat prior to being set adrift in the Niagara River.
On the morning of the 15th, FitzGerald was towed down the Niagara River by a small cabin cruiser and spotted by swimmers near Navy Island. Tourists then saw the ball float past Three Sisters Island and head to the brink of the Horseshoe Falls. Then just before he was about to go over the hatch popped open on the"Plunge-o-Sphere".
"The hatch sprung open in the rapids," said FitzGerald while talking to reporters afterwards. "I could see daylight . The Plunge-o-sphere began to take on water. It was like hitting two walls, one when the rapids drop, again went I went over."
Longtime Niagara Gazette photographer Joe Ognibene was at the brink of the Horseshoe Falls as FitzGerald went over. Ognibene had picked up his camera that morning from the repair shop because he was having problems with the shutter. When FitzGerald reached up to close that hatch just before going over Niagara, Ognibene took what would have been a classic photo. Unfortunately for Joe Ognibene his camera shutter had not been repaired as he had hoped and the photo never taken.
When FitzGerald's ball hit the Niagara River he had another moment of terror. "The ball landed upside down, then righted itself. The hatch on the top started to open and I held onto it by a hook inside. I held onto the hatch for dear life. After I went over the falls, I landed upside down again. The ball righted itself and the hatch whipped off completely. The people on the dock were cheering me as I came in."
The "Plunge-O-Sphere" was then towed to shore and FitzGerald he was arrested by Canadian police near the Maid of the Mist dock. FitzGerald complained of chest pains and was taken to Greater Niagara General Hospital in Ontario, where he was photographed smiling, with bruises visible on his bare back.
FitzGerald told park's police that he had "integrated Niagara Falls" and that he was a Negro and proud of it.
Two days later while attending his court date the truth about his identity began to get out. A corporate spokesman at the IBM head office in New York City identified Boya as William FitzGerald, an IBM porter who worked as a night maintenance man, earning about $5,000 a year. The spokesman said FitzGerald was living with his grandmother in Jamaica, Queens.
Later, when asked about his plan to conquer Niagara , FitzGerald replied, "Why don't you ask the president of IBM what he has in mind for me, since I'm supposed to work there?"
FitzGerald then disappeared from public scrutiny, but resurfaced in 1985 when he attended the funeral of fellow Falls daredevil Karel Soucek. FitzGerald had never met Soucek, but did exchange letters.
On flowers he sent to the grave-site, FitzGerald attached this note: "To a Fallen Comrade: I had so wanted to meet you, yet it wasn't to be. We had something in common and those Falls are still tumbling there. That I've lived to tell the tale is a miracle. Fate has taken a hand and your life has ended too soon, but I doubt you would have wanted it any other way."
FitzGerald has kept a low profile since that time, but he has been back to Niagara Falls a few times. FitzGerald was spotted several years ago visiting his old "Plunge-O-Sphere" in a local Daredevil Museum.