Niagara Falls Canada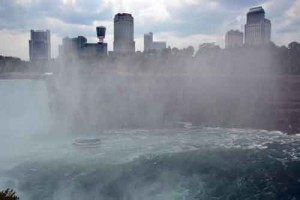 Niagara Falls Canada has many attractions available just north of the border. Some of the Canadian attractions are great natural wonders and many are world-class man-made attractions. In fact, Niagara Falls Canada offers more tourist attractions is a relatively small geographic area than almost anywhere else on the globe.
One attraction of sorts for those visiting Niagara Falls Canada is that from Canada you can get a total panoramic view of both the American Falls and the Horseshoe Falls. For those looking for that definitive photo of Niagara Falls, Niagara Falls Canada is where you want to be.

The list of attractions in Niagara Falls Canada must begin with Clifton Hill. This famous street reflects the drop in elevation along the Niagara escarpment as it sits on a steep incline. Shops, restaurants, museums and several interactive 3D displays attracts tourists by the thousands. In fact, Clifton Hill rivals Las Vegas for its combinations of flashing lights and sounds.
Other attractions that can be found in Niagara Falls Canada along the Gorge perimeter all the way to the Whirlpool located down river including the White Water Walk and the Whirlpool Aero Car Ride.
Some of the other Niagara Falls Canada attractions are: