Published on January 29, 2016
Dorothy said it best – "There's no place like home" and that is where Lollie, the pretty little dog whose story captivated so many people of Niagara Falls has finally come to rest. After a long 34 days of wandering Grand Island and Niagara Falls in the harsh WNY winter, sweet little Lollie is back home in the loving arms of the amazing woman who saved her from the mean streets of the Bahamas just months ago.
In September, Lollie and her young pups had been nabbed in a catch, spay and release program. While the babies easily found foster homes, it's much more difficult for the adult dog. Most are just released back onto the streets to continue to fend for themselves.
Newly spayed and sick with heartworm, ehrlichia, parasites and plenty of fleas and ticks, Lollie was about to be another statistic. Then appeared her guardian angel, in the form of Chella Melnechuk. It was obvious to Chella that this little dog was in dire need of a savior, as are so many other homeless wandering the streets of the beautiful islands of the Bahamas.
Chella does her best to help as many of these dogs as she can, and she does it purely from the heart, with only donations from others who also care about these wounded souls. Chella Melnechuk took 94 dogs off the streets in 2015 and except for a few who weren't able to survive, has found "forever" homes for all of them!
Lollie was treated for her many illnesses, and nursed back to health, learning how to live in a home instead of the wild.  Most of all, Lollie finally knew what it was like to feel loved. Chella became the only human who had ever shown her that she was deserving of hugs, instead of kicks. Sadly, behind the well known tropical beauty of the Bahama islands, lies the secret of a huge population of stray dogs. Many abused, and even killed, by people who were not raised to value their lives. Lollie was one of the lucky ones who crossed Chella's path.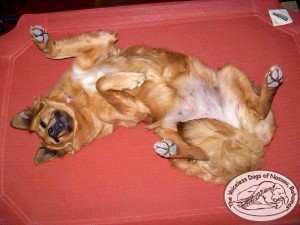 After Lollie's recovery and lessons in how to be a good family member, it was time for her to get a new forever home and leave the Bahamas refuge. Like many before her, she was sent to a local rescue in WNY where she was to live with a foster family until a permanent home could be found.
It took Lollie just eight days to find a chance to sneak out the door and begin her long journey back to the only home she'd ever known. Of course Lollie had no idea how many miles stretched between Niagara Falls and the Bahamas, or just how different the climates were. However, sometimes there is a bond too strong for even distance to break, and such was the case with Lollie and Chella. Lollie wanted to go home, and that was what she was determined to do!
Many volunteers put in countless hours to paper the city of Niagara Falls with flyers and monitor and bait humane traps. Citizens dutifully called in dog sightings around the clock. Finally, after a particularly cold and snowy day that hampered her usual foraging for food, Lollie was tempted by the trap set behind Ventry's pizza, baited with freshly roasted chicken. Within 24 hours, Lollie's "Mom" Chella was on a plane bound for New York, anxious to once again lay hands on her beautiful golden fur.
In the course of her travels, Lollie lost about ten pounds, although her street smarts provided her the skills to survive what many others would not. As of January 22nd Lollie is warm, safe and blissfully happy, back in the Bahamas. Lollie is in the big fenced acreage of Chella's refuge, playing with the sixteen other dogs currently living there, enjoying tasty meals with soft couches and beds to rest on. Lollie loves the warm tropical sunshine of the islands, but most of all, she loves being HOME.