Published on November 2, 2013
The Maid of The Mist has officially moved operations down river to the site of the former Schoellkopf Power Plant. The Maid of the Mist VI and Maid of the Mist VII were lifted from the Niagara River and placed on their newly-built dry dock on the banks of the Niagara at the site of the former Schoellkopf Power Station.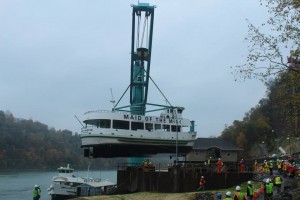 The removal of the two vessels was witnessed by the Maid owners, employees, state and city officials. The Glynn family has owned the Maid of the Mist since 1971, but was outbid by the Hornblower Cruises and Entertainment of California in 2012 and the new contract was to begin in 2014.
The Glynn's were given a reprieve by New York Governor Andrew Cuomo when he amended the Maid's existing 40-year contract that would see the state take in an additional $105 million over the course of agreement and see the Maid spend an additional $32 million to convert the historic Schoellkopf Power Station site into a dry dock facility for the boats and "enhance" the historic aspects of the site to create another attraction for visitors.
In the summer of 2014 there will be competing tour boats taking turns approaching the Horseshoe Falls filled with tourists. Yet, owner James Glynn is happy that his family will retain ownership on the American side of the border. "It's very gratifying that we're here and everything's in place," Glynn said. "We'll be ready to start in the spring from the American side."
In addition to the dry dock, the contractors will construct a maintenance building and will restore a historic elevator shaft from the power plant.
The 78-foot-tall marine crane used to lift the Maid vessels out of the Niagara was delivered in mid-September, coming in parts from Germany and England, passing through Canada before coming over the Peace Bridge in Buffalo. The towering 157 ton crane took about a month to lower into the gorge and assemble.
Buffalo based Hanes Supply Company manufactured the special "Twin Path Lifting Slings" used to lift the large vessels from the river up on to the dock.

Niagara Falls Mayor Paul Dyster was on hand and happy that the new site will be ready for the next tourist season."I think at the end of the day what we're going to end up with here is something that serves a very practical purpose, but that also is going to become a focus now for our tourism industry," Dyster said.