Published on September 7, 2013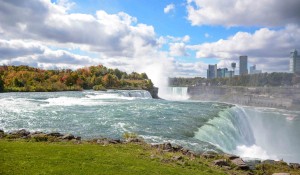 Niagara Falls in the Fall offers a beautiful view of the mighty water falls as well as an appreciation for the changing foliage in the area. Just the drive to Niagara Falls through surrounding rural areas of New York and border states is worth the trip alone.
Niagara Falls is situated on the border of the United States and Canada between Lakes Erie and Ontario. That location is known for its scenic beauty in the months of September and October because of the color changes in the many wooded areas. Combine the yearly painting of the leaves by Mother Nature with the majesty of the mighty water falls of Niagara and it's a celebration of nature.
Goat Island has some of the oldest forests in the region and it's accessible all year round. The beauty of this wooded area at the brink of both the American and the Horseshoe falls has been preserved thanks to the efforts of Frederick Law Olmsted. It was Olmsted who designated Goat Island as a park area that should protect nature and in particular the trees of the forest.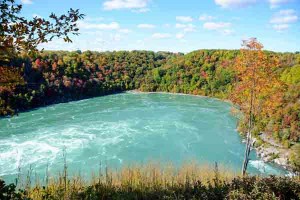 On the Canadian side of the border you can find Queen Victoria Park surrounding the Niagara Gorge and Horseshoe Falls. Queen Victoria Park offers a valuable collection of unique native and international plants and beautifully maintained gardens that rival any found in the region.
In the Fall a walk through the Park along the Niagara Gorge from Clifton Hill to beyond the Dufferin Islands is as relaxing a stroll one can take. It is a photographers dream with the cascading water the focal point, but the change in seasons a close second.
Another advantage to visiting Niagara Falls in Autumn is avoiding the crowds of Summer. With over twenty million visitors a year Niagara Falls is a popular destination point, but many of those visits come between June and August. A trip to Niagara in September and October allows viewing of Niagara Fallswithout the crowds and yet still moderate weather.
Niagara Falls offers so much year round so do not rule out a trip to this area even after the kids go back to school.