Niagara Falls Up Close is a web site dedicated to the beauty, history and tourism attractions that make up Niagara Falls and the region.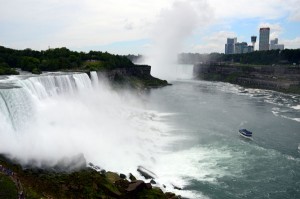 Niagara Falls is first and foremost the three waterfalls that sit on both sides of Goat Island in the Niagara River and the American/Canadian border. They are the American Falls, Bridal Falls and Horseshoe Falls with 90% of the larger Horseshoe Falls located in Canada.
Niagara Falls was formed an estimated 12,000 years ago when receding glaciers formed the Great Lakes and the Niagara River. The Falls were first located at the edge of the Niagara Escarpment where Lewiston New York is now located about seven miles north of their current location. The Falls continue to slowly erode up the Niagara River, but the erosion has slowed considerably since the creation of the Robert Moses Power Plant on the American side and the Sir Adam Beck Power station on the Canadian side.
Niagara Falls is also one of the most popular tourism destinations in North America with approximately 12 million visitors a year. Visitors have come to see the beauty and majesty of the Falls for two centuries. That area now features numerous other attractions and activities for visitors which includes casino gambling.
Niagara Falls Up Close provides information on all the topics listed above and countless photos of the Falls, Niagara Gorge and tourist attractions.