Published on July 9, 2014
The Nik Wallenda Monument was revealed on July 7th, 2014 to commemorate the awe-inspiring wire walk across the Horseshoe Falls by Wallenda. The monument is just yards from the brink of the Horseshoe Falls to memorialize Nik Wallenda's great feat for future generations. Over 100 dignitaries and media were on hand on Monday, July 7th, 2014 to unveil the four and a half foot limestone and bronze marker that also includes a three and a half foot piece of the actual wire used on the historic crossing June 15th 2012.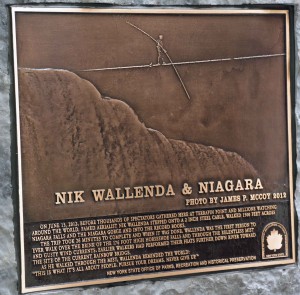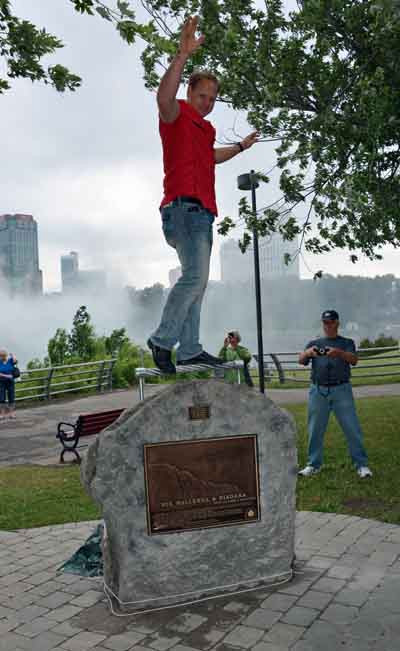 Nik Wallenda told the assembled crowd that the monument was the final realization of a dream he had for most of his adult life. Wallenda was accompanied by his wife, daughter, sons, mother and fellow performers from his Darien Lake "Nik Wallenda Beyond the Falls" show.
After answering questions Wallenda climbed on top of the monument and posed while standing on the aluminum wire that was once a part of the 1,800 foot cable used for the wire-walk.
The image captured in the Nik Wallenda Monument bronze plague mounted in the limestone is from a photo taken by veteran professional photographer James P. McCoy. The monument was then sketched and designed by long-time artist and State Parks employee Jack Glennie. The finished monument was then built by Wagner Monuments of Cheektowaga.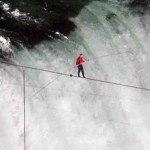 On the night of June 15th Nik Wallenda began his walk just above the Horseshoe Falls and walked along the cable , 1,500 feet to the Canadian side despite that wire dipping some 35 feet in the middle. 
As Nik Wallenda got to the end of of his walk he stopped, got down on one knee and blew a kiss to the crowd. Wallenda then got up, pumped his fist, and ran the final few steps completing the walk in twenty-six minutes.
One Billion Viewers
The day after Nik Wallenda's historic walk Engima Research estimated that one billion people had seen or heard about Wallenda's walk making it the most famous "stunt" in the history of Niagara Falls
Wallenda has tried to establish a permanent venue in Niagara Falls USA where he could perform during the summer months, but has been unable to secure sponsors to make it happen. The Nik Wallenda Monument will then serve as a constant reminder of the historic event in the meantime