Published on August 27, 2013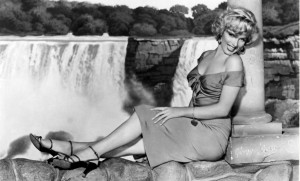 Marilyn Monroe filmed the movie "Niagara" in 1952 before she became a true mega star. Even so, Marilyn's presence made quite a stir in Niagara Falls on both sides of the border.
Marilyn Monroe married legendary baseball player Joe DiMaggio in 1954 and only nine months later they were divorced. However, in 1952, while both were married to someone else, the two would seek out quiet locations to steal private moments. While Monroe was filming "Niagara" their hideaway was Schimschacks Restaurant in Sanborn New York.
Schimschacks Restaurant, located at the top of the Niagara escarpment in Sanborn recently closed. However, the building still over-looks the "Pekin Cut", a section of Townline Road that slices through the rocky cliff.
The original Schimschacks burned down in 1970 and was replaced by the current structure. Till the day it closed in October of 2015, visitors still asked about the place Marilyn and "Joltin Joe" frequented.
Joe DiMaggio was notoriously shy off the baseball field and around cameras. Marilyn Monroe of course was quite the opposite and basked in the limelight.
With Marilyn staying at the Crown Plaza Hotel In Niagara Falls Ontario camera hawks lurked about the lobby looking for a glimpse of the blond bombshell. It was impossible for Monroe and DiMaggio to have a quiet dinner in this atmosphere. So someone turned the pair on to a rural restaurant located just twenty minutes away called Schimschacks.
No public photos are available of the pair dining at Schimschacks, but there were a number of witnesses who have told the tale for decades. Apparently the location suited this pair of superstars because witnesses claim they dined there at least four times.
The film "Niagara" received both critical and box office acclaim and of course Marilyn Monroe's career skyrocketed from there. Still, Monroe never really found true and lasting romance. Regardless, for the folks around Niagara Falls she and Joe "D" are still remembered for their brief love affair at Schimschacks Restaurant.