Published on July 18, 2013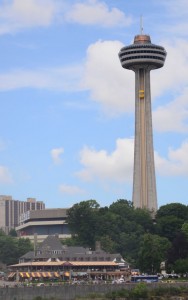 The skyline of Niagara Falls Canada began to change drastically in 1964 when construction of the Skylon Tower began. The tower was then opened on October 6, 1965 in a ceremony that included then New York Governor Nelson Rockefeller and Ontario Premier John Robarts.
The tower cost $7 million in 1965 and owned by a private partnership called Niagara International Centre, which was financed by the The Hershey Company shareholdings of Charles Richard Reese, former co-owner of the H. B. ReeseCandy Company of Hershey, Pennsylvania.
The Skylon Tower stands 520 feet tall from ground level and is 775 feet above the level of the Falls. The height of the tower forced the builders to seek approval from both the Canadian and American air transport authorities, due to its proximity to the international boundary.
The tower features three outside mounted "Yellow Bug" elevators which were the first of their kind in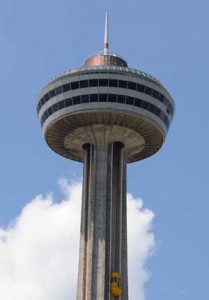 1965. Unlike conventional elevators that are guided by side rails, the Skylon elevators operate with a guide rail on the backside only. Special equipment is employed to prevent the cables from becoming tangled in the wind or impeded by snow and ice in the winter. A curtain wall on the outside of the tower behind each elevator protects the counterweight and traveling cables from the elements.
The Skylon Tower also has a special feature with two restaurants at the top, the lower Revolving Dining Room and the upper Summit Suite Buffet.
The base of the tower features a number of gift shops, fast food restaurants and a large amusement arcade. A floor for conventions is also available, but is seldom utilized.
The Skylon Tower has become a fixture on the Niagara Falls Canada skyline and will continue to do so for decades to come.